Auction

Art Auction Part I
Your personal art agent
You would like to purchase a similar object?
We are happy to inform you, if similar works are to be auctioned in one of our upcoming auctions.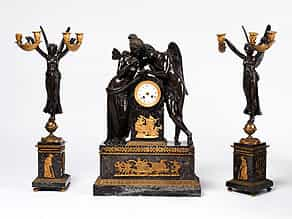 192
Große Kaminuhr mit Bronzefiguren "Amor und Psyche"
Höhe: 75 cm.
Breite: 50 cm.
Tiefe: 21 cm.
Frankreich, 19. Jahrhundert.
Catalogue price € 15.000 - 18.000 Catalogue price€ 15.000 - 18.000 $ 15,600 - 18,720
£ 13,500 - 16,200
元 104,850 - 125,820
₽ 814,500 - 977,400
WERK
Achttagegehwerk, umgebaut auf elfsteiniges Ankerechappement, Halbstunden- und Stundenschlossscheibenschlagwerk auf Glocke (Glocke fehlt).

FUNKTIONEN
Stunden und Minuten.

GEHÄUSE
Gehäuseaufbau in grünem Marmor und Bronze. Querrechteckiger Marmorsockel mit vortretender Antreppung, darauf stelenförmiges, oben rundbogig geschlossenes Gehäuse mit weißem Email-Zifferblatt mit römischer Stunden- und arabischer Minutenangabe. Das Uhrengehäuse flankierend zwei bildnerisch fein gearbeitete Bronzefiguren, der geflügelte Liebesgott Amor im Gespräch mit Psyche, beide einen Schmetterling betrachtend. Die Bronzen dunkel patiniert und fein ziseliert. Vergoldete Bronzereliefapplikationen am Gehäuse und Sockel mit einer antiken Opferszene am Sockel, die Göttin Juno von einem Pfauenwagen gezogen mit Amoretten, seitlich Lyramotive.

ZIFFERBLATT
Email mit römischen Ziffern. Zeiger fehlend.

ZUSTAND
Starke Gebrauchsspuren. (790434)


Mantel clock with bronze figures "Cupid and Psyche"
Height: 75 cm.
Length: 50 cm.
Width: 21 cm.
France, 19th century.
This object has been individually compared to the information in the Art Loss Register data bank and is not registered there as stolen or missing.
Your personal art agent
You would like to be informed of upcoming auctions if a similar work of art is offered? Activate your personal art agent here.