Auction

Asian and Egypt Art
Your personal art agent
You would like to purchase a similar object?
We are happy to inform you, if similar works are to be auctioned in one of our upcoming auctions.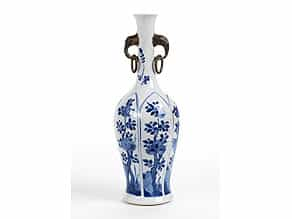 1314
Chinesische Porzellanvase
Höhe: 28 cm.
Am Boden Marke in Blau in Form eines Blattes.
Kangxi-Periode.
Catalogue price € 650 - 700 Catalogue price€ 650 - 700 $ 682 - 735
£ 585 - 630
元 4,764 - 5,131
₽ 42,932 - 46,235
Sich keulenförmig nach oben weitend, mit engem, hohem Hals, am Hals beidseitig Elefantenköpfe mit eingearbeiteten Ringen in den Rüsseln. Blaubemalung auf weißem Grund, in sechsfacher Facettengliederung, mit hochziehenden Blütensträuchern. (760722)
Your personal art agent
You would like to be informed of upcoming auctions if a similar work of art is offered? Activate your personal art agent here.