Your search for Frederik-Hendrik Kaemmerer in the auction
Paintings 19th - 20th Century

Friday, 26 June 2009
Your personal art agent
You are interested in works by Frederik-Hendrik Kaemmerer?
We are happy to inform you, if works by Frederik-Hendrik Kaemmerer are to be auctioned in one of our upcoming auctions.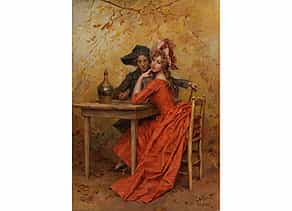 506
Frederik-Hendrik Kaemmerer,
1839 - 1902
LIEBESPAAR AN EINEM TISCH IM FREIENÖl auf Leinwand. Doubliert.
46 x 33 cm.
Rechts unten signiert.
Catalogue price € 20.000 - 24.000 Catalogue price€ 20.000 - 24.000 $ 22,000 - 26,400
£ 18,000 - 21,600
元 141,800 - 170,160
₽ 1,864,000 - 2,236,800
Junge Dame im roten Seidenkleid im Gespräch mit einem Herrn im grauen Rock, mit Dreispitz und Stock, auf den er sich stützt. Auf dem Tisch eine Bastflasche. Das junge Paar blickt interessiert dem Betrachter entgegen. In Art eines spontanen Moments. Die Dame hat ihren Zeigefinger ans Kinn geführt, ihr blond gelocktes Haar fällt den Rücken herab, auf dem Kopf ein beiger Seidenhut mit rotem Tüll. Im Hintergrund herbstliches Laub. (740406)
This object has been individually compared to the information in the Art Loss Register data bank and is not registered there as stolen or missing.
Your personal art agent
You would like to be informed of upcoming auctions if a work by Frederik-Hendrik Kaemmerer is offered? Activate your personal art agent here.