Auction

General Art Auction
Your personal art agent
You would like to purchase a similar object?
We are happy to inform you, if similar works are to be auctioned in one of our upcoming auctions.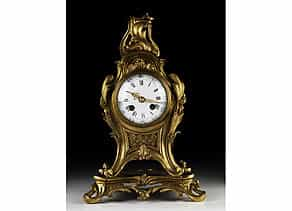 794
Kaminuhr im Louis XV-Stil
Höhe: 35 cm.
Breite: 23 cm.
Tiefe: 13,5 cm.
Frankreich, zweite Hälfte 19. Jahrhundert.
Catalogue price € 700 - 1.000 Catalogue price€ 700 - 1.000 $ 735 - 1,050
£ 630 - 900
元 5,131 - 7,330
₽ 46,235 - 66,050
WERK
Acht-Tage-Gehwerk, Pendel mit Pendelfeder. Halbstunden- und Stundenrechenschlagwerk auf Glocke.

FUNKTIONEN
Stunden und Minutenzeiger.

GEHÄUSE
Gehäuse in Bronze, nach oben sich weitend, bekrönt von amorpher, vollplastischer Rocaille. An den Seiten hochziehende Akanthusblätter. Die Füße in Voluten einziehend, auf einen Rocaillesockel gestellt. Unterhalb des Zifferblattes Gitterwerk.

ZIFFERBLATT
Emailzifferblatt mit römischen Ziffern für Stunden, arabische Ziffern für Minuten.

ZUSTAND
Gut. (721151)
Your personal art agent
You would like to be informed of upcoming auctions if a similar work of art is offered? Activate your personal art agent here.