Your search for Andries Vermeulen in the auction
Paintings

Friday, 19 September 2008
Your personal art agent
You are interested in works by Andries Vermeulen?
We are happy to inform you, if works by Andries Vermeulen are to be auctioned in one of our upcoming auctions.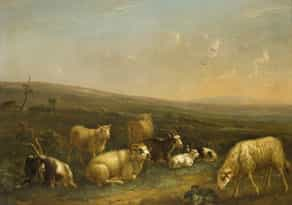 261
Andries Vermeulen,
1763 Dordrecht - 1814 Amsterdam
SCHAFE UND ZIEGEN IN ABENDLICHER HEIDELANDSCHAFT
Catalogue price € 3.000 - 4.000 Catalogue price€ 3.000 - 4.000 $ 3,120 - 4,160
£ 2,700 - 3,600
元 20,970 - 27,960
₽ 162,900 - 217,200
Öl auf Leinwand.
40,5 x 54 cm.
Links unten signiert.


Blick über eine weite, leicht hügelige Landschaft mit hohem Wolkenhimmel, der von der Abendsonne aufgeleuchtet wird. Im Vordergrund eine dicht zusammengedrängte Gruppe von liegenden Ziegen mit ihren Jungen, umgeben von drei grasenden Schafen. Weiter hinten zieht sich ein sträucherbewachsener Hohlweg den Hang nach oben, mit einem am linken Bildrand sichtbaren, kleinen Stallgebäude. In den Wolken auffliegende Vögel. (710131)

This object has been individually compared to the information in the Art Loss Register data bank and is not registered there as stolen or missing.
Your personal art agent
You would like to be informed of upcoming auctions if a work by Andries Vermeulen is offered? Activate your personal art agent here.