Your personal art agent
You would like to purchase a similar object?
We are happy to inform you, if similar works are to be auctioned in one of our upcoming auctions.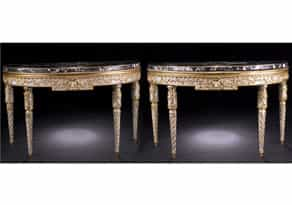 90
Paar große Demi Lune-Wandkonsolen
des ausgehenden 18. Jahrhunderts
Höhe: 92 cm.
Wandbreite: 151 cm.
Tiefe: 62 cm.
Neapel, Ende 18. Jahrhundert.
Catalogue price € 100.000 - 120.000 Catalogue price€ 100.000 - 120.000 $ 99,000 - 118,800
£ 90,000 - 108,000
元 702,000 - 842,400
₽ 6,070,000 - 7,284,000
Aufbau in Pappelholz, geschnitzt, beige-grau gefasst und in den reliefgeschnitzten Dekorationen auf gelbem Bolus blattvergoldet. Halb rundum laufende, gerade Zarge mit kurzer rechteckiger Frontschürze auf vier in sich gedrehten, nach unten sich verjüngenden Beinen. Beinansätze unterhalb der Zarge zylinderförmig, besetzt mit Dionysos-Masken, behängt mit beschnitzten Weinblättern und Trauben sowie hochstehenden Akanthusblättern. Der untere Teil der Beine in Art von tiefen Kanneluren gedreht, in den Kannelurvertiefungen eingelegte, vergoldete Ranken. Unterer Abschluss der Füße in Form nach unten weisender Lanzettblätter mit abschließendem Ring. In der Zargenfront ein nahezu plastsicher Widderkopf mit seitlich über die Zarge ziehenden geschweiften Blütenzweigen, dazwischen Rosetten und Fantasievögel. Oberer Zargenrand in Form eines schlichten, umlaufenden, leicht hohlkehligen Profils mit darunter liegendem Blattfries mit hängenden Blättern. Abschluss jeweils durch eine schwarz-weiß gesprenkelte Marmorplatte mit gerader Kante und Messingeinlage in Form eines eingelegten Messing-Viertelrundstabs. Die seltene Marmorsorte in Art zweifach gespiegelter Furnierverlegung, mit Steingusskern. Rest. Erg. (700961)

This object has been individually compared to the information in the Art Loss Register data bank and is not registered there as stolen or missing.
Your personal art agent
You would like to be informed of upcoming auctions if a similar work of art is offered? Activate your personal art agent here.