Your search for Pieter van Avont in the auction
Paintings

Friday, 4 April 2008
Your personal art agent
You are interested in works by Pieter van Avont?
We are happy to inform you, if works by Pieter van Avont are to be auctioned in one of our upcoming auctions.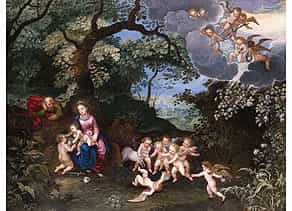 436
Pieter van Avont,
1600 Malines - 1652 Antwerpen
DIE HEILIGE FAMILIE AUF DER FLUCHT NACH ÄGYPTEN
Catalogue price € 20.000 - 24.000 Catalogue price€ 20.000 - 24.000 $ 20,800 - 24,960
£ 18,000 - 21,600
元 139,800 - 167,760
₽ 1,086,000 - 1,303,200
Öl auf Kupferplatte.
38 x 50,5 cm.
Verso alte, leicht verriebene Künstlerbezeichnung, lesbar "P...D´Avont" sowie rotes Lacksiegel.


In Malweise der Breugel-Nachfolge geschaffenes Landschaftsbild einer Waldrandsituation mit Ausblick in eine ferne Landschaft mit Gebäuden im Nachgewitter-Sonnenlicht. Im Dunkel des Waldschattens hell aufleuchtend die Figurengruppe der heiligen Familie, im linken Bildteil: Maria in rotem Kleid, mit blauen Mantel, auf einem Stein unterhalb eines knorrigen Baumes sitzend, auf dem Schoß das Jesuskind, das sich dem Johannesknaben zuwendet. Links hinten der die Szene betrachtende heilige Josef in grüner Kleidung mit rotem Umhang. Weiter rechts, beinahe ins Zentrum des Bildes gesetzt, ein Reigen von geflügelten Putten, die in drolliger Weise miteinander scherzen und mit dem weißen Lämmchen, dem Attributtier des heiligen Johannes, spielen, während eines der Engelchen zu Boden gefallen ist, offenbar vom Lamm besiegt. Weiter rechts ein herbeieilender Putto mit Märtyrerpalme und Rose, eine heitere Anspielung auf den unglücklichen Ausgang des Engelsstreites. Rechts und links am Bildrand fein, geradezu minutiös ausgearbeitete Vegetation mit Disteln, Wildrosenstrauch und Kräuterpflanzen, deren ikonographische Deutung dem Bild einen weiteren Sinn verleihen. In der rechten oberen Bildecke erscheinen in Wolken weitere Engelsknäblein mit Lorbeerkranz und Palmwedeln. (691563)

This object has been individually compared to the information in the Art Loss Register data bank and is not registered there as stolen or missing.
Your personal art agent
You would like to be informed of upcoming auctions if a work by Pieter van Avont is offered? Activate your personal art agent here.