Your personal art agent
You would like to purchase a similar object?
We are happy to inform you, if similar works are to be auctioned in one of our upcoming auctions.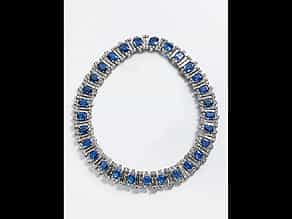 936
Collier und Anhänger
Set aus Collier und Clipanhänger in Etui.
Collier mit Brillanten, zus. ca. 25 ct, und Diamanten
im Baguetteschliff, zus. 8,12 ct, und ovalen, facettierten Safiren im Verlauf, zus. 107 ct. Einhängbarer Clipanhänger mit Diamanten im Prinzeßschliff, zus. 7,07 ct, einem zentralen Safir
im Kissenschliff, 30,50 ct, und facettierten, ovalen und tropfenförmigen Safiren, zus. 17,50 ct. 18 kt Weißgold, zus. ca. 190 gr. Collierlänge 40,5 cm, zwei einfügbare Erweiterungsglieder zusätzlich dabei. (682181)
Catalogue price € 140.000 - 170.000 Catalogue price€ 140.000 - 170.000 $ 147,000 - 178,500
£ 126,000 - 153,000
元 1,026,200 - 1,246,100
₽ 9,247,000 - 11,228,500
This object has been individually compared to the information in the Art Loss Register data bank and is not registered there as stolen or missing.
Your personal art agent
You would like to be informed of upcoming auctions if a similar work of art is offered? Activate your personal art agent here.