Auction

Fine Art Auctions
Your personal art agent
You would like to purchase a similar object?
We are happy to inform you, if similar works are to be auctioned in one of our upcoming auctions.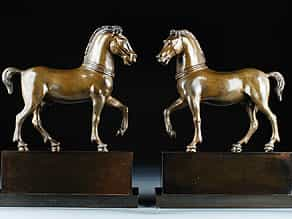 799
Bronzefiguren zweier Pferde von San Marco
Feine braune, leicht olivgrünliche Patina. Montiert
auf modernen, fein gearbeiteten patinierten Sockeln.
Catalogue price € 10.000 - 15.000 Catalogue price€ 10.000 - 15.000 $ 11,000 - 16,500
£ 9,000 - 13,500
元 70,900 - 106,350
₽ 932,000 - 1,398,000
Höhe mit Sockel: 27,3 cm.
18. Jahrhundert.

Anmerkung:
Diese zwei Pferde basieren auf den Pferden von
San Marco, der Quadriga vor der Markuskirche. Die berühmten Pferde von San Marco standen ursprünglich auf dem Triumphbogen eines römischen Kaisers. Zu den bekannten Beispielen zählen die von E. Jury nach einem Modell des deutschen Bildhauers, Zeichners und Grafikers Gottfried Schadow (1764 - 1850) in doppelter Lebensgröße aus Kupfer getriebene Quadriga am Brandenburger Tor in Berlin sowie die acht bronzenen Quadrigen am Wiener Parlament.

Literatur:
Vgl.: Hafner, G: Viergespanne in Vorderansicht. Berlin 1938. Vg.: Die Pferde von San Marco. Katalog Berlin 1982. Vgl.: Krenzlin, U.: J. G. Schadow, Die Quadriga. Vom preußischen Symbol zum Denkmal der Nation. Frankfurt a. M. 1991. (6715531)
This object has been individually compared to the information in the Art Loss Register data bank and is not registered there as stolen or missing.
Your personal art agent
You would like to be informed of upcoming auctions if a similar work of art is offered? Activate your personal art agent here.