Your search for Joos de Momper in the auction
Paintings

Friday, 21 September 2007
Your personal art agent
You are interested in works by Joos de Momper?
We are happy to inform you, if works by Joos de Momper are to be auctioned in one of our upcoming auctions.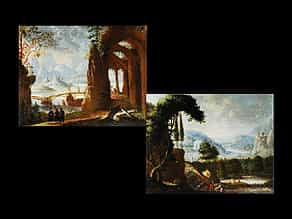 480
Joos de Momper
1564 Antwerpen - 1635, zug.
Gemäldepaar
FANTASIELANDSCHAFTEN MIT FIGURENSTAFFAGE
Catalogue price € 18.000 - 22.000 Catalogue price€ 18.000 - 22.000 $ 19,800 - 24,200
£ 16,200 - 19,800
元 127,620 - 155,980
₽ 1,677,600 - 2,050,400
Gegenstücke. Einfassung der Gesamtbilderscheinung durch Ruinenarchitektur bzw. hochstehende Bäume, dazwischen Durchblick auf ferne Gebirgslandschaft in blauer Luftperspektive mit zahlreichen Palastgebäuden und Türmen;

Stadt am Fluss mit Bogenbrücke bzw. Brückensteg.

In einem der Bilder werden Pilger in Pilgerkleidung mit Wanderstäben und der Jakobsmuschel gezeigt, die sich auf dem Weg nach Santiago de Compostela befinden. Auf der Holzbrücke mehrere Mönche bei der Pilgerwanderung.

Jeweils Öl auf Leinwand. Doubliert.
Jeweils 75 x 96 cm.
(6714612)
This object has been individually compared to the information in the Art Loss Register data bank and is not registered there as stolen or missing.
Your personal art agent
You would like to be informed of upcoming auctions if a work by Joos de Momper is offered? Activate your personal art agent here.