Your personal art agent
You would like to purchase a similar object?
We are happy to inform you, if similar works are to be auctioned in one of our upcoming auctions.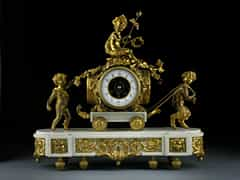 276
Kaminuhr
Auf längsovalem Marmorsockel mit eingearbeiteten Bronzebeschlägen in Form von Blattfriesen und Puttenköpfen. Der Uhraufsatz mit Gehäuse darstellend den Bacchantenzug mit Bacchus auf dem Fass. Zink bronziert. Acht-Tage-Gehwerk. Halbstunden- und Stunden-Schlossscheibenschlagwerk auf Glocke. Emailzifferring mit arabischen Ziffern. Im Mittelfeld sichtbares Werk. Minutenzeiger fehlt.
Catalogue price € 800 - 1.040 Catalogue price€ 800 - 1.040 $ 832 - 1,081
£ 720 - 936
元 5,592 - 7,269
₽ 43,440 - 56,472
Höhe: 40 cm. Breite: 45 cm.
Frankreich, um 1900.
(641965)
Your personal art agent
You would like to be informed of upcoming auctions if a similar work of art is offered? Activate your personal art agent here.