Your personal art agent
You would like to purchase a similar object?
We are happy to inform you, if similar works are to be auctioned in one of our upcoming auctions.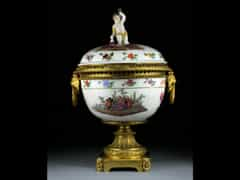 1004
Großer Tafelaufsatz
Große Porzellanschale mit Deckel. Die Porzellanschale dekoriert mit einer lustigen Gesellschaft in einer Parkanlage. Auf der gegenüberliegenden Seite eine Familie mit Kindern vor Gebäuden. Korbranddekor mit Blütenmalerei. Der Deckel mit Darstellung von Trinkgelagen und Tafelszenen. Dazwischen großflächige Blumenmalerei. Als abschließender Knauf Bacchus prostend. Die Porzellandeckelschale gefasst in einer Bronzemontur auf quadratischem Fuß mit gebogten Ecken und applizierten Blüten. Der Schaft kanneliert, die Lippe eingefasst mit Bronze. Blattfriese und seitliche Löwenkopfapplikationen mit Blattkranzgriffen.
H.: 53 cm. D.: 36 cm.
19. Jhdt. (630982)
Catalogue price € 3.000 - 3.600 Catalogue price€ 3.000 - 3.600 $ 2,970 - 3,564
£ 2,700 - 3,240
元 21,060 - 25,272
₽ 182,100 - 218,520
This object has been individually compared to the information in the Art Loss Register data bank and is not registered there as stolen or missing.
Your personal art agent
You would like to be informed of upcoming auctions if a similar work of art is offered? Activate your personal art agent here.