Auction

December Auction Part I.
Your personal art agent
You would like to purchase a similar object?
We are happy to inform you, if similar works are to be auctioned in one of our upcoming auctions.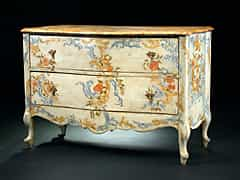 45
Kommode des 18. Jhdts.
Mit feiner Blüten- und Rocaillenmalerei. Auf kurzen, kraftvoll gebogten Beinen stehende zweischübige Kommode. Die Zarge gebogt ausgeschnitten. Der gesamte Körper über die Schubladen hinweg dekoriert mit Rocaillen, Ranken und Blütendekor. Die Platte leicht überstehend und marmoriert. Kleine Bronze-Beschläge. Die Seitenflächen der Kommode von konkav auf konvex übergehend, ebenso mit feiner Malerei versehen.
Catalogue price € 18.000 - 22.000 Catalogue price€ 18.000 - 22.000 $ 19,800 - 24,200
£ 16,200 - 19,800
元 127,620 - 155,980
₽ 1,677,600 - 2,050,400
H.: 83 cm. B.: 120 cm. Mitte 18. Jhdt. (601541)
This object has been individually compared to the information in the Art Loss Register data bank and is not registered there as stolen or missing.
Your personal art agent
You would like to be informed of upcoming auctions if a similar work of art is offered? Activate your personal art agent here.