Auction

September Auction Part I.
Your personal art agent
You would like to purchase a similar object?
We are happy to inform you, if similar works are to be auctioned in one of our upcoming auctions.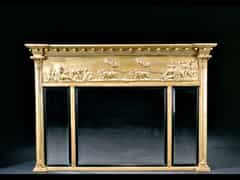 79
Seltener querformatiger Spiegel
Holzgeschnitzter und vollvergoldeter Spiegel. Die Spiegelfläche dreigeteilt mit eingeschliffenem Spiegelglas. An den Seiten kannelierte Säulen nach oben in korinthische Kapitelle auslaufend. Der obere Flächenfries dekoriert mit Putten, die vier Jahreszeiten wiederspiegelnd. Darüber fliegende Engel mit Fanfaren sowie ein Triumphzug, der von Löwen gezogen wird.
Catalogue price € 3.000 - 3.600 Catalogue price€ 3.000 - 3.600 $ 3,300 - 3,960
£ 2,700 - 3,240
元 21,270 - 25,524
₽ 279,600 - 335,520
H.: 93 cm. B.: 137 cm.
1. Hälfte 19. Jhdt.
(590141)
This object has been individually compared to the information in the Art Loss Register data bank and is not registered there as stolen or missing.
Your personal art agent
You would like to be informed of upcoming auctions if a similar work of art is offered? Activate your personal art agent here.