Auction

September Auction Part I.
Your personal art agent
You would like to purchase a similar object?
We are happy to inform you, if similar works are to be auctioned in one of our upcoming auctions.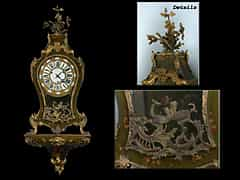 28
Große französische Konsoluhr
Das Uhrengehäuse sowie der Aufsatz als auch der Sockel mit feiner Lackmalerei auf grünem Fond.
Das Gehäuse sowie der Aufsatz und der Sockel mit reichen Bronzeelementen verziert. Rocaillen, Blattwerk, C-Voluten im Wechsel. Der untere Bereich des Glasschaukastens mit Vogeldekor zwischen Blüten-, Blatt- und Rocaillenwerk. Der seperate Aufsatz bekrönt durch Rocaillen, C-Voluten und Blattwerk sowie großem Vogel. Der Sockel fein dekoriert mit Wateau'scher Szene in Lackmalerei sowie überreichen Bronzebeschlägen aus Rocaillenkartuschen bestehend. Treize-Pièces-Ziffernblatt aus Email und römischen Ziffern. Sign.: "Lenoire à Paris". Gebläute Zeiger. Uhrwerk in gestürzter Bauweise.
Acht-Tage-Gehwerk, Pendel mit Pendelfeder und Brocot-Hemmung, Vier-Viertel- und Stunden-Rechenschlagwerk auf drei Glocken.
Catalogue price € 8.000 - 9.600 Catalogue price€ 8.000 - 9.600 $ 8,800 - 10,560
£ 7,200 - 8,640
元 56,720 - 68,064
₽ 745,600 - 894,720
H.: 156 cm. B.: 54 cm.
Frankreich, 1. Hälfte 19. Jhdt.

Anmerkung: Die Konsole mit der galanten Szene ist signiert: "Vanlao".

Literatur: Tardi, Dictionaire, S. 374.
(590301)
This object has been individually compared to the information in the Art Loss Register data bank and is not registered there as stolen or missing.
Your personal art agent
You would like to be informed of upcoming auctions if a similar work of art is offered? Activate your personal art agent here.