Your search for Max Liebermann in the auction
Max Liebermann

Thursday, 22 September 2005
Your personal art agent
You are interested in works by Max Liebermann?
We are happy to inform you, if works by Max Liebermann are to be auctioned in one of our upcoming auctions.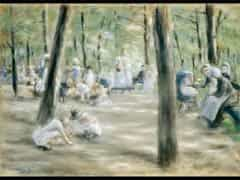 20
Max Liebermann,
1847-1935 Berlin
KINDERSPIELPLATZ IM BERLINER TIERGARTEN (1899)
Catalogue price € 280.000 - 340.000 Catalogue price€ 280.000 - 340.000 $ 277,200 - 336,600
£ 252,000 - 306,000
元 1,965,599 - 2,386,800
₽ 16,996,000 - 20,638,000
Pastell auf Papier über einem Keilrahmen
56 x 77 cm
Bez. und datiert links unten (mit schwarzer Kreide): M. Liebermann 99
Das Pastell wird von Margreet Nouwen aufgenommen in das in Vorbereitung befindliche Werkverzeichnis der Pastelle, Aquarelle und Gouachen Max Liebermanns.

CHILDREN'S PLAYGROUND IN THE TIERGARTEN OF BERLIN (1899)

Pastel on paper over canvas stretcher
22 x 30 in.
Sign. and dated lower left (with black chalk):
M. Liebermann 99
The pastel painting will be included in the catalogue raisonné of pastels, watercolors and gouaches by Max Liebermann being prepared by Margreet Nouwen

Rückseitige Notizen:
Oben auf der rückseitigen Holzplatte: Weißes Etikett (der Kunsthandlung Paul Cassirer) mit (links, rechts und oben) gezahnten Rändern (handschriftlich mit Feder): "16237 / Max Liebermann / Kinderspielplatz im / Tiergarten (1899)".

Zustand:
Farben sehr frisch, rechts oben ein kleiner Einriß.

Provenienz:
Wer [ner?] Weisbach; am 3.10.1917 an P. Cassirer verkauft; Paul Cassirer, Berlin (PC-Nr. 16.237: "Kinderspielplatz im Tiergarten 1899", Pastell, am 3.10.1917 von Wer [ner?] Weisbach gekauft; am 3.10.1917 an E. Arnold verkauft; E. Arnold (Kunsthandlung Ernst Arnold in Dresden?) (am 3.10.1917 bei Paul Cassirer gekauft); Kunst des 20. Jahrhunderts, Kunsthaus Lempertz, Auktion 465, Köln 3.6.1961, Kat. Nr. 269, Abb. auf Taf. 29; Privatbesitz, Hamburg; Galerie Pels-Leusden, Berlin 26.2.1996; Sammlung Hans-Georg Karg, Bad Homburg-Gut Sossau, Nr. 20 (erworben 1996 bei Galerie Pels-Leusden, Berlin); Karg'sche Familienstiftung.

Ausstellungen:
Max Liebermann zu Ehren. Gedächtnisausstellung, Galerie Dr. Bühler, München 22.3.-26.4.1985, Kat. Nr. 16 (Leihgabe aus Schweizer Privatbesitz).

Literatur:
Eberle (1995), S. 478 (unter Nr. 1897/27), erwähnt.

Vom Berliner Tiergarten sagte man zu Recht, er sei ein echter Volksgarten gewesen. Frei zugänglich, war er der Treffpunkt für alle sozialen Schichten der Großstadt. Jedermann schätzte diesen für alle so nahe gelegenen Erholungsort. Hier sah man die Reiter der oberen Zehntausend ebenso wie zahllose Droschken den Park durchkreuzen. Pensionäre, Liebespaare und Kindermädchen mit den Sprößlingen der "besseren" Leute bevölkerten die Alleen und Plätze. An sonnigen Tagen sollen sich die Bänke unter dem Gewicht der Ammen, Bonnen und Gouvernanten gebogen haben, die auf die ihnen anvertrauten Kinder achteten. Der Tiergarten lag von Max Liebermanns diversen Wohnungen in Berlin jeweils nur Schritte entfernt. Hier hatte er schon als Knabe gespielt, hier war er als Jüngling ausgeritten, hier führte er als reifer Mann seinen Dackel spazieren.
Das vorliegende Pastell ist wieder einmal ein Beispiel dafür, daß Max Liebermann bereits gefundene Motive mit Hilfe dieser Technik publikumswirksamer gestalten möchte. Zugrunde liegt der Komposition ein Ölbild aus dem Jahre 1882 "Kinderspielplatz im Tiergarten" (Eberle 1882/2). Hier wie dort blickt man zwischen zwei dicken Baumstämmen auf eine Lichtung, in deren Mitte kleine Jungen und Mädchen sich an einem großen Sandhaufen zu schaffen machen. Auf den Bänken ringsherum sitzen die Kindermädchen. Im Prinzip achten sie auf ihre Schützlinge, nebenbei ergibt sich hier aber auch Gelegenheit zum Austausch. Von den drei Frauen rechts im Vordergrund sind zwei im lebhaftem Gespräch, während die Frau in ihrer Mitte mit einem Kleinkind auf dem Schoß aufmerksam ein anderes Kind beobachtet. Weiter im Hintergrund sitzt eine gänzlich in Weiß gekleidete Amme mit einem Säugling. Der junge Mann in Uniform daneben läßt sie nicht aus den Augen.
Die beiden - für Berlin so typischen - Spreewälder Ammen, die uns auf dem Weg entgegenkommen, geben dem Motiv Lokalkolorit. Mit ihren blendendweißen großen Hauben und bauschigen Röcken bilden sie - genau im Fluchtpunkt der Komposition - einen wahren Blickfang. Alle Einzelheiten werden aber vereint und zusammengefaßt durch das Licht, das sanft gefiltert durch das Laub der Bäume auf die Menschen, die Bank, den Kinderwagen, die Stämme und den Boden fällt. Mögen die Kindermädchen den Fluchtpunkt besetzen, den Vordergrund der Szene beherrschen zweifellos die Kinder, die für den Maler eine immer neue Quelle der Faszination waren. "Liebermann bewunderte immer aufs neue, wie solch ein Kind spielen kann - als wäre das Leben ringsum versunken. Und eben diese Spielversonnenheit, dieser unbeirrte, gefaßte Trieb, diese isolierte Beweglichkeit [...]." (Julius Elias: Max Liebermann zu Hause, [Paul Cassirer] Berlin 1918, S. 52) haben ihn immer wieder begeistert, wovon auch die zahlreichen Darstellungen seiner spielenden Tochter und Enkelin zeugen. (590606)
This object has been individually compared to the information in the Art Loss Register data bank and is not registered there as stolen or missing.
Your personal art agent
You would like to be informed of upcoming auctions if a work by Max Liebermann is offered? Activate your personal art agent here.