Auction

June Auction Part I.
Your personal art agent
You would like to purchase a similar object?
We are happy to inform you, if similar works are to be auctioned in one of our upcoming auctions.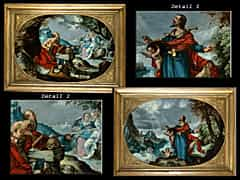 386
Anton Mozart
1573 - 1625 Augsburg
Catalogue price € 140.000 - 170.000 Catalogue price€ 140.000 - 170.000 $ 147,000 - 178,500
£ 126,000 - 153,000
元 1,026,200 - 1,246,100
₽ 9,247,000 - 11,228,500
Gemäldepaar:
DER PROPHET JEREMIAS und DER HEILIGE HIERONYMUS

Ovalbilder. 63 x 90 cm. Öl/Holz.
Monogrammiert "A.M." und dat. "1609".

Anmerkung I: Anton Mozart, der 1573 in Augsburg
geboren wurde und am 13. Mai 1625 in Augsburg verstarb, gehörte derselben Familie an wie der Komponist Wolfgang Amadeus Mozart, auch wenn
er nicht zu seinen direkten Vorfahren gezählt werden kann. In der Zeit des Heiligen Römischen Reiches Deutscher Nationen, unmittelbar vor Beginnn des
30-jährigen Krieges, die vom Wechselspiel zwischen Manierismus und Barock bestimmt wurde, wiesen die Zeitgenossen dem Maler Mozart einhellig den Rang "gleich nach dem Breughel" zu. Es sind nur rund 30 seiner Werke bekannt. So sind einige davon in Museen in Deutschland, Berlin, Dresden und München sowie Österreich, Burg Ambras zu sehen. Andere Gemälde befinden sich im Louvre in Paris und im Metropolitan Museum of Art in New York.

Anmerkung II.: Es existiert eine sehr interessante Federzeichnung, allem Anschein nach eine Vorskizze zum Jeremias, von dem hier die Rede ist. Sie befindet sich im Besitz der Fürsten von Waldburg-Wolfegg, in der Sammlung Schloss Wolfegg, Baden-Württenberg. Diese Vorskizze ist abgebildet in Ludwig Wegele:
Der Augsburger Maler Anton Mozart, hrsg. von der deutschen Mozart Gesellschaft. Verlag: Diebrigg, Augsburg. S. 25.

Anmerkung III.: Möglicherweise handelt es sich bei "Jeremias" und "Hieronymus" auch um jene Gemälde, die letztmals 1846 von I.G. Wirth in seiner "Beschreibung der Kunst und Sehenswürdigkeiten der Stadt Augsburg" erwähnt sind. Seitdem verschollen, waren sie damals im "Lutherhöfe" des dortigen St. Annen Klosters bewahrt worden.

Literatur: Vgl. Ludwig Wegele, Der Augsburger Maler Anton Mozart, Augsburg 1969.
Marion Rudelius-Kamolz, Anton Mozart, Dissertation, Köln 1995. (582191)
This object has been individually compared to the information in the Art Loss Register data bank and is not registered there as stolen or missing.
Your personal art agent
You would like to be informed of upcoming auctions if a similar work of art is offered? Activate your personal art agent here.