Auction

September Auction Part I.
Your personal art agent
You would like to purchase a similar object?
We are happy to inform you, if similar works are to be auctioned in one of our upcoming auctions.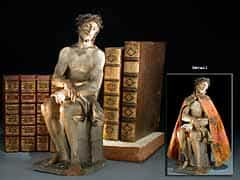 948
Matthias Obermayer, 1720 Meindling - 1799 Straubing, zugeschrieben
Schnitzfigur eines "Christus in der Rast" Die Christusfigur in Lindenholz geschnitzt, mit alter Fassung, auf Steinsockel sitzend, mit über die Knie gelegten durch Fessel gebundenen Händen, das Haupt nach rechts geneigt mit schmerzlich nachdenklichem Blick, feinem Gesichtsschnitt und geflochtener Dornenkrone. Meisterliche Wiedergabe von Körper und Gesicht. Insbesondere der Gesichtsausdruck ist vergleichbar mit dem einer Johannes Nepomuk Figur in der Pfarrkirche von Psallach/Niederbayern aus dem Jahre 1765 H.: 33 cm. Literatur: (vgl. die Kunstdenkmäler von Bayern, Inventarband: Bezirksamt Mallersdorf 1936/1983 S. 268 mit Abb.). Zugehörig ein gestickter Königsmantel in rotem Seidensamt mit Brokatstickerei und Randbordüre. Vordere Plinthenecke und Fußspitze abgebrochen. (550891)
Catalogue price € 3.200 - 3.800 Catalogue price€ 3.200 - 3.800 $ 3,520 - 4,180
£ 2,880 - 3,420
元 22,688 - 26,942
₽ 298,240 - 354,160
This object has been individually compared to the information in the Art Loss Register data bank and is not registered there as stolen or missing.
Your personal art agent
You would like to be informed of upcoming auctions if a similar work of art is offered? Activate your personal art agent here.