Your search for Frans Floris in the auction
September Auction Part I.

Friday, 24 September 2004
Your personal art agent
You are interested in works by Frans Floris?
We are happy to inform you, if works by Frans Floris are to be auctioned in one of our upcoming auctions.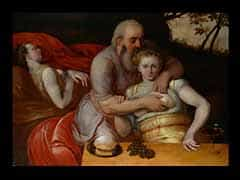 390
Franz Floris
Mitglied der weitverzweigten Antwerpener Künstlerfamilie, zug./Umkreis LOTH UND SEINE TÖCHTER Alt-Testamentliche Szenerie, im Zentrum der altersgraue Loth, bärtig dargestellt in grauem Kleid, vom Wein trunken. Trauben und Weinglas sowie Brot auf einer Schüssel vor dem Tisch im Liebesspiel mit einer seiner Töchter dargestellt. Diese blickt in ernster Miene auf den Betrachter. Im Hintergrund die zweite Tochter auf rotem Tuch liegend, schlafend dargestellt, ebenfalls mit entblößter Brust. Rechts oben Blick aus der Höhle in Landschaft mit jungen Eichenbäumen. Das Bild besticht nicht nur durch das anreizende Thema, sondern auch durch die stillebenhaft wiedergegebenen Gegenstände im Vordergrund und die äußerst feine, präzise Malweise mit delikater Farbverteilung. Ganz bewusst ist die alte kunsttheoretische Farbtrias Rot, Blau und Gelb im Kleid des alternden Loth ins grau-blau abgeschwächt wiedergegeben. Öl/ Eichenholz. 80 x 130 cm. (5505591)
Catalogue price € 10.000 - 12.000 Catalogue price€ 10.000 - 12.000 $ 11,000 - 13,200
£ 9,000 - 10,800
元 70,900 - 85,080
₽ 932,000 - 1,118,400
This object has been individually compared to the information in the Art Loss Register data bank and is not registered there as stolen or missing.
Your personal art agent
You would like to be informed of upcoming auctions if a work by Frans Floris is offered? Activate your personal art agent here.