Auction

June Auction Part II.
Your personal art agent
You would like to purchase a similar object?
We are happy to inform you, if similar works are to be auctioned in one of our upcoming auctions.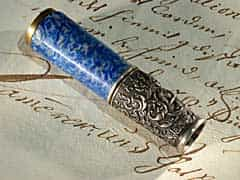 895
Stockgriff
Gerade, zylindrische Form. Oberteil in blau-weiß geädertem Halbedelstein mit goldenem Abschlussring und perlmuttweißem Transluzid-Email in der gewölbten Abschlussplatte. Unterteil in Silber mit javanischem/asiatischem Reliefdekor mit sitzender Buddhafigur zwischen Flammendekoration. L.: 8,5 cm. Oberer D.: 2 cm. Trägt am Silberprofilrändchen Stempelmarke Fabergé in kyrillischen Buchstaben sowie Silberstempel 88 und Meistermarke BA. (540112)
Catalogue price € 2.900 - 3.500 Catalogue price€ 2.900 - 3.500 $ 3,016 - 3,640
£ 2,610 - 3,150
元 20,271 - 24,465
₽ 157,470 - 190,050
This object has been individually compared to the information in the Art Loss Register data bank and is not registered there as stolen or missing.
Your personal art agent
You would like to be informed of upcoming auctions if a similar work of art is offered? Activate your personal art agent here.