Your search for Nicolaes Berchem in the auction
March Auction Part I.

Friday, 26 March 2004
Your personal art agent
You are interested in works by Nicolaes Berchem?
We are happy to inform you, if works by Nicolaes Berchem are to be auctioned in one of our upcoming auctions.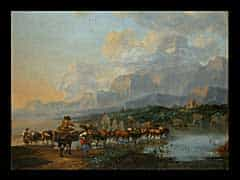 376
Nicolaes Berchem 1620 Haarlem-1683 Amsterdam, zug.
HIRTEN MIT RINDERHERDE AN EINEM FLUSSÜBERGANG Flusslandschaft mit im Hintergrund hochrangenden Bergen und einem ruinösen Turm am gegenüberliegenden Ufer. Im Vordergrund ein Hirte auf einem Maultier reitend, neben ihm eine Hirtin mit Reisigbündel auf dem Kopf tragend, sowie links seitlich am Bildrand eine weitere Hirtin beim Eintreiben einer Rinderherde in die Furt. Öl/Lwd. 49 x 62,5 cm. Provenienz: ehemals Sammlung Prof. Severin (Ex-Gesundheitsminister der DDR). (531572)
Catalogue price € 22.000 - 26.000 Catalogue price€ 22.000 - 26.000 $ 24,200 - 28,600
£ 19,800 - 23,400
元 155,980 - 184,340
₽ 2,050,400 - 2,423,200
This object has been individually compared to the information in the Art Loss Register data bank and is not registered there as stolen or missing.
Your personal art agent
You would like to be informed of upcoming auctions if a work by Nicolaes Berchem is offered? Activate your personal art agent here.