Your search for Oumbertos Argyros in the auction
June Auction Part I.

Friday, 27 June 2003
Your personal art agent
You are interested in works by Oumbertos Argyros?
We are happy to inform you, if works by Oumbertos Argyros are to be auctioned in one of our upcoming auctions.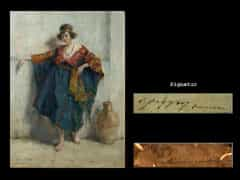 254
Oumbertos Argyros,
1877/82 – 1963
Maler der Münchener Schule, als Professor an der Athener Akademie, beschickte seit 1913 die Glaspalast-Ausstellungen in München. JUNGE FRAU IN ORIENTALISCHEM KLEID AN EINER STEINMAUER Rechts daneben ein Tonkrug. Öl/Lwd. 75 x 55 cm. (462511)
Catalogue price € 4.500 - 5.400 Catalogue price€ 4.500 - 5.400 $ 4,725 - 5,670
£ 4,050 - 4,860
元 32,985 - 39,582
₽ 297,225 - 356,670
This object has been individually compared to the information in the Art Loss Register data bank and is not registered there as stolen or missing.
Your personal art agent
You would like to be informed of upcoming auctions if a work by Oumbertos Argyros is offered? Activate your personal art agent here.