Auction

Auction Italian Art
Your personal art agent
You would like to purchase a similar object?
We are happy to inform you, if similar works are to be auctioned in one of our upcoming auctions.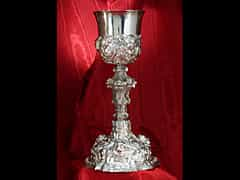 540
Großer, silberner Messkelch aus Perugia
Hoher, gewölbter Fuß, getreppt und durch gewölbte Lisenen in drei Kompartimente geteilt mit jeweils mit Wappen und den darauf getriebenen Arma Christi, dazwischen Engelsköpfe. Der Nodus dreiteilig mit Voluten und Engelsköpfen besetzt. Die Kuppa innen feuervergoldet, glatter leicht nach außen gewölbter Rand, bis zur halben Höhe eingefasst mit Silbertreibarbeit mit drei Wappen, darin Marterwerkzeuge Christi und Engelsköpfe auf Voluten. H.: 26 cm. Perugia, um 1730. (470022)
Catalogue price € 1.800 - 2.200 Catalogue price€ 1.800 - 2.200 $ 1,782 - 2,178
£ 1,620 - 1,980
元 12,636 - 15,443
₽ 109,260 - 133,540
Your personal art agent
You would like to be informed of upcoming auctions if a similar work of art is offered? Activate your personal art agent here.