Your search for Richard Benno Adam in the auction
March Auction Part I.

Friday, 28 March 2003
Your personal art agent
You are interested in works by Richard Benno Adam?
We are happy to inform you, if works by Richard Benno Adam are to be auctioned in one of our upcoming auctions.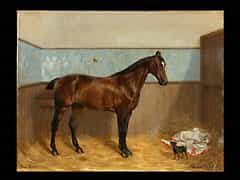 379
Richard Benno Adam 1873 München - 1937,
FROU FROU Pferdebild, braunes Pferd, querstehend ungesattelt im Stall auf Stroh, die Rückwand des Stalles gefließt, auf dem Boden eine Satteldecke mit Adelskrone und Monogramm, davor ein Hündchen. Öl/Lwd. Rechts unten sign. und dat. 1896. Links unten titelbezeichnet mit dem Namen des Pferdes ´Frou Frou´. 35 cm x 45 cm. (4405711)
Catalogue price € 2.500 - 3.000 Catalogue price€ 2.500 - 3.000 $ 2,475 - 2,970
£ 2,250 - 2,700
元 17,550 - 21,060
₽ 151,750 - 182,100
Your personal art agent
You would like to be informed of upcoming auctions if a work by Richard Benno Adam is offered? Activate your personal art agent here.