Your search for Christian Adam in the auction
December Auction Part I.

Friday, 6 December 2002
Your personal art agent
You are interested in works by Christian Adam?
We are happy to inform you, if works by Christian Adam are to be auctioned in one of our upcoming auctions.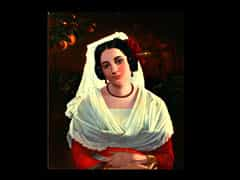 49
Christian Adam
Regensburger Maler des 19. Jhdts. DIE JUNGE RÖMERIN Junges Mädchen in römischer Tracht des 19. Jhdts. mit weissem Kopf- und Schulter-tuch sowie Granatperlen-schmuck, in der Hand ein Fächer. Im Hintergrund Orangenzweige mit Früchten. Im Stil der Deutsch-Römer-Malerei des 19. Jhdt. Im Biedermeier-Goldrahmen. Links unten sign., Ortsbezeichnung Regensburg und Datierung 1861. 67 x 58 cm. Öl/Lwd. (400487)
Catalogue price € 1.800 - 2.200 Catalogue price€ 1.800 - 2.200 $ 1,890 - 2,310
£ 1,620 - 1,980
元 13,194 - 16,126
₽ 118,890 - 145,310
Your personal art agent
You would like to be informed of upcoming auctions if a work by Christian Adam is offered? Activate your personal art agent here.