Auction

September Auction Part II.
Your personal art agent
You would like to purchase a similar object?
We are happy to inform you, if similar works are to be auctioned in one of our upcoming auctions.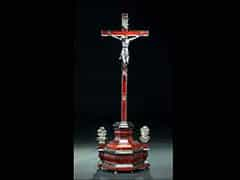 1400
Großes Standkreuz mit Corpus in Augsburger Silber vom Meister Paul Gottlob Weniger
Hohes Kreuz mit flachen Kreuzbalken mit Schildpatt belegt und eingefasst mit ebonilierten Flammleisten. Der Sockel im 5/8-Schluss nach vorne vortretend mit seitlichen, flachen Silbervasen besetzten Sockeln. Mehrfach getreppt und profiliert, jeweils mit Schildpattauflage und Flammleiste. Der Christuscorpus in Silber gegossen. Im 4-Nagel-Typus, die Beine jedoch in verkreuzter Weise wiedergegeben. Am Kreuzstamm hochovale kleine Fensteröffnung mit Reliquieneinlagen. Das INRI-Schild in rocailleartiger Umrahmung. Die Silberarbeit mit Augsburger Beschauzeichen, Jahresbuchstabe F (1820) sowie Meistermarke Paul Gottlob Weniger, Buchstabenstempel: PGW. H.: 120 cm. B.: 40 cm. Augusburg, um 1820. (382331)
Catalogue price € 7.000 - 8.400 Catalogue price€ 7.000 - 8.400 $ 7,350 - 8,820
£ 6,300 - 7,560
元 51,310 - 61,572
₽ 462,350 - 554,820
This object has been individually compared to the information in the Art Loss Register data bank and is not registered there as stolen or missing.
Your personal art agent
You would like to be informed of upcoming auctions if a similar work of art is offered? Activate your personal art agent here.