Your search for Alexander Koester in the auction
September Auction Part I.

Friday, 20 September 2002
Your personal art agent
You are interested in works by Alexander Koester?
We are happy to inform you, if works by Alexander Koester are to be auctioned in one of our upcoming auctions.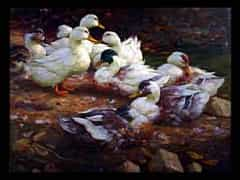 233
Alexander Koester 1864 Bergneustadt - 1932 München
ENTENFAMILIE AM WASSERUFER Enten zwischen Steinen an einem Ufer. Einige Enten sich putzend, andere in Erwartung über das Wasser blickend. Öl/Lwd. Doubliert. Links unten signiert. 80,5 x 60,5 cm. (382511)
Catalogue price € 60.000 - 72.000 Catalogue price€ 60.000 - 72.000 $ 66,000 - 79,200
£ 54,000 - 64,800
元 425,400 - 510,480
₽ 5,592,000 - 6,710,400
This object has been individually compared to the information in the Art Loss Register data bank and is not registered there as stolen or missing.
Your personal art agent
You would like to be informed of upcoming auctions if a work by Alexander Koester is offered? Activate your personal art agent here.