Your personal art agent
You would like to purchase a similar object?
We are happy to inform you, if similar works are to be auctioned in one of our upcoming auctions.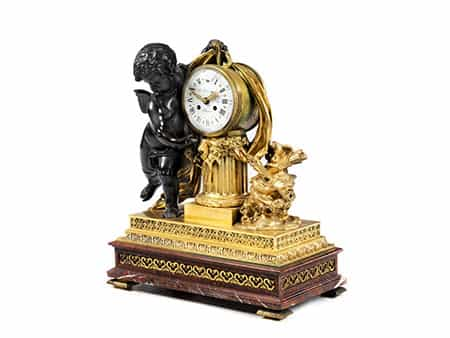 110
Große Louis XVI-Kaminuhr
Höhe: 58 cm.
Breite: 52 cm.
Tiefe: 26 cm.
Frankreich, um 1800.
Catalogue price € 10.000 - 15.000 Catalogue price€ 10.000 - 15.000 $ 10,400 - 15,600
£ 9,000 - 13,500
元 69,900 - 104,850
₽ 543,000 - 814,500
WERK
Achttagegehwerk. Pendel mit Pendelfeder. Halbstunden- und Stundenschlagwerk auf Glocke.

FUNKTIONEN
Stunden- und Minutenzeiger, vergoldete Bronze. Aus dem Zentrum Datumszeiger, Stahl.

GEHÄUSE
Roter, schwarz geäderter Marmor und vergoldete sowie schwarz patinierte Bronze. Der Sockel mit applizierter Frieszone dekoriert, darüber getreppte Plinthe auf der links Amor die auf einem zentralen kannelierten Säulenstumpf die Uhr hochhält. Rechts ein Wolkenbündel mit Blüten dekoriert, darin die Liebenssymbole Amors, Fackel, Taube und Pfeilköcher. Vergoldung berieben, alterssp. Sockel mit Chips.

ZIFFERBLATT
Emailzifferblatt mit schwarzen römischen und arabischen Ziffern sowie roten arabischen Ziffern für die Datumsanzeige. Das Mittelfeld bezeichnet "F. Brethoud a Paris".

ZUSTAND
Gebrauchssp. Nicht auf Funktionsfähigkeit getestet. Ein Pendel und kein Schlüssel vorhanden. (1140909) (2) (14)
This object has been individually compared to the information in the Art Loss Register data bank and is not registered there as stolen or missing.
Your personal art agent
You would like to be informed of upcoming auctions if a similar work of art is offered? Activate your personal art agent here.