Auction

Jewellery & Accessoires
Your personal art agent
You would like to purchase a similar object?
We are happy to inform you, if similar works are to be auctioned in one of our upcoming auctions.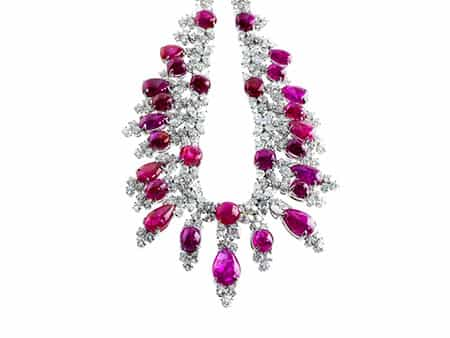 640
Burma-Rubin-Diamantcollier von Harry Winston
Halsweite: ca. 43 cm.
Länge Mittelhänger: ca. 4,3 cm.
Gewicht: ca. 175,5 g.
Platin und WG 750 (Verschluss).
Meistersignet von Jaques Timey für Harry Winston.
Catalogue price € 250.000 - 300.000 Catalogue price€ 250.000 - 300.000 $ 262,500 - 315,000
£ 225,000 - 270,000
元 1,832,500 - 2,199,000
₽ 16,512,500 - 19,815,000
Beigefügt ein Report von SSEF Nr. 85463 vom April 2016.

Prachtvolles hochwertiges Collier mit unerhitzten ovalen, tropfen- und kissenförmigen Burma-Rubincabochons, zus. ca. 160 ct, und hochfeinen Brillanten und Diamanten im Tropfen-und Navetteschliff, zus. ca. 58 ct F-H/VVS-VS. Verdeckter Steckverschluss mit Sicherheitsbügel. (1141881)
This object has been individually compared to the information in the Art Loss Register data bank and is not registered there as stolen or missing.
Your personal art agent
You would like to be informed of upcoming auctions if a similar work of art is offered? Activate your personal art agent here.