Your search for Pieter Brueghel der Jüngere in the auction
16th - 18th century paintings

Wednesday, 5 July 2017
Your personal art agent
You are interested in works by Pieter Brueghel der Jüngere?
We are happy to inform you, if works by Pieter Brueghel der Jüngere are to be auctioned in one of our upcoming auctions.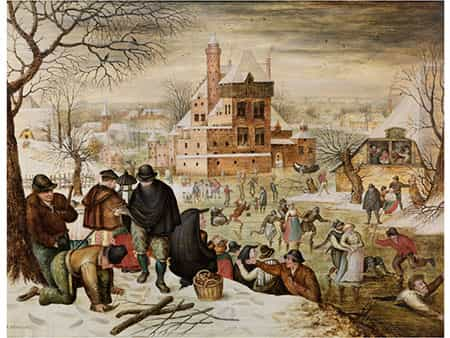 424
Pieter Brueghel d. J.,
um 1564 Brüssel – 1637 Antwerpen
WINTERLANDSCHAFT MIT EISVERGNÜGEN
AUF DEM SCHLOSSTEICH Öl auf Holz. Parkettiert.
40 x 57 cm.
Links unten signiert "P. BRVEGHEL".
Catalogue price € 300.000 - 500.000 Catalogue price€ 300.000 - 500.000 $ 312,000 - 520,000
£ 270,000 - 450,000
元 2,097,000 - 3,495,000
₽ 16,290,000 - 27,150,000
Beigegebene Pigmentanalyse von Prof. Dr. Schreiner, Wien vom Mai 2017, bestätigt die Altersangabe.
Expertise von Dr. Klaus Ertz, vom Juni 2017, anbei.

Das Gemälde in stattlichem Format ist schon allein aufgrund der Vielzahl an Personen und Themen eine Augenweide. Der Maler führt uns auf eine schneebedeckte Anhöhe mit weitem Blick auf ein stattliches Schloss im mittleren Hintergrund, umgeben vom vereisten Schlossteich. Hier hat sich offenbar das gesamte Volk der Umgebung zum Eisvergnügen versammelt. Kahle Bäume grenzen die Bilddarstellung an beiden Seiten ab. Dazwischen hat sich helles, winterliches Licht über die Landschaft gebreitet. Die Kälte wird auch für den Bildbetrachter nachvollziehbar, vor allem beim Anblick der unterschiedlichsten Szenen auf dem Eis, aber auch der bei den im größerem Format wiedergegebenen Personen im Vordergrund. Hier sitzt eine Frau mit schwarzem Windschutz-Umhang an der verschneiten Hangkante, wärmt sich die Hände über einem Kohlebecken und blickt interessiert auf das Treiben. Links davor vier weitere größer dargestellte Personen. Der stehende Herr mit Umhang, Hut und gebänderten Kniehosen darf zusammen mit seinen Begleitern wohl als dem Schloss im Hintergrund zugehörig zu deuten sein. Er ist soeben dabei, seinem Begleiter einen Strick zu reichen, mit dem dieser seine Gleitschuhe anbindet.
Auf der Eisfläche, die sich um die Schlossmauern legt und in Breite eines Flusslaufes nach rechts unten zieht, werden uns eine Vielzahl an einzelnen Szenen geboten, aus dem derben ländlichen Leben dieser Zeit gegriffen, nicht ohne vordergründige Drollerien, aber auch hintergründige erotische Anspielungen. Eine Frau ist auf dem Eis zu Boden gegangen, wobei ihr blankes Gesäß zu sehen ist. In dieser Zeit verständlich, war die Unterwäsche doch erst eine Erfindung des 19. Jahrhunderts. Ein Jüngling daneben amüsiert sich darüber mit hochgeworfenen Armen. Einige tollpatschige ungelenke Frauen werden auf der Eisglätte von männlicher Begleitung gestützt. Ein weiteres Paar kann sich nur eng umschlungen auf dem Eis halten, während in der rechten unteren Bildecke ein Mann ins Eis eingebrochen ist. Dass sich das Paar links daneben dem dünnen Eis gefährlich nähert, muss - wie so viele Andeutungen im Bild - als "Memento mori"-Symbolik verstanden werden.

An ganz offensichtlichen, aber auch versteckten erotischen Hinweisen fehlt es nicht. Wärmt sich doch der Mann links am Baum seine Hand im Hosenlatz, während sein Begleiter davor das Hinterteil recht anspielungsreich dagegenhält. Auch die schlanke Gerte, die ein junger Mann mit roter Joppe in Nähe des Ertrinkenden hält, gilt wohl weniger der Rettung, als dass sie unseren Blick vielmehr auf den Schoß einer sitzenden Frau im Hintergrund lenkt. Wie eng Vergnügen und Streit nebeneinander liegen, zeigt der Blick in die Fenster der Hütte rechts oben. Neben schmausenden Leuten am Tisch beginnt rechts bereits die Streiterei. Insgesamt bietet das Gemälde natürlich auch eine Fülle an landschaftlichen Einzelheiten, besonders im Hintergrund zu beiden Seiten der Schlossanlage.

Pieter Brueghel hat als ältester Sohn von Pieter d. Ä. lebenslang im Stil seines Vaters gearbeitet. Zum Thema des vorliegenden Bildes existieren etwa 17 weitere Versionen, allerdings mit zahlreichen Unterschieden in den Details. Eine davon befindet sich im Rijksmuseum Twenthe. Bildaufbau, Architektur und Figurenwahl sind mit unserem vorliegenden Werk identisch. Auch die Frau mit nacktem Hinterteil bildet in beiden Bildern das kompositorische Zentrum. Die Gerte des Jünglings führt dort allerdings nicht zum Schoß der Sitzenden am Ufer.
Die Fülle an humoristischen Details, auch die wie immer bei Pieter Brueghel zu erkennende präzise Linienführung - meist durch dunkle feine Konturen - aber vor allem der überzeugende Gesamteindruck des Bildes rücken es in die Reihe der bedeutenden Arbeiten des Malers.

Provenienz:
Privatsammlung.
Privatsammlung, Belgien.
Kunsthandel, England.
Bedeutende Privatsammlung. (1110701) (11)


Pieter Brueghel the Younger,
ca. 1564 Brussels – 1637 Antwerp

WINTER LANDSCAPE WITH ICE AMUSEMENTS ON A PALACE POND

Oil on panel. Parquetted.
40 x 57 cm.
Signed "P. BRVEGHEL" lower left.

Accompanied by a pigment analysis by Professor Dr Schreiner, Vienna from May 2017, confirming the painting's age.
Accomopanied by an expertise by Dr Klaus Ertz, June 2017.

This painting of considerable format provides a feast for the eyes, because of its multitude of figures and themes alone. The painter takes us to a snow-covered hill with sweeping views of a grand palace in the central background, surrounded by an icy pond. Here, entire neighbouring population appears to have gathered for ice amusements. As the eldest son of Pieter Brueghel the Elder, Pieter the Younger worked in his father's style all his life.

There are approximately 17 versions of the same subject as the painting on offer in this lot, however, with numerous differences in the details. One of these versions, held at the Rijksmuseum, is identical with regards to composition, architecture and choice of figures. Even the centre of either composition is the same: a woman exposing her backside. The riding crop held by young man is, however, not pointing at the lap of the woman sitting on the lakeside in that version. The wealth of comic details, the precise lines – usually with fine dark contours – are so typical for Pieter Brueghel but it is especially the convincing overall impression of the painting that puts it in line with his other famous works.

Provenance:
Private collection.
Private collection, Belgium.
Art market, England.
Important private collection.
This object has been individually compared to the information in the Art Loss Register data bank and is not registered there as stolen or missing.
Your personal art agent
You would like to be informed of upcoming auctions if a work by Pieter Brueghel der Jüngere is offered? Activate your personal art agent here.