Your search for Marco Ricci in the auction
16th - 18th century paintings

Thursday, 30 March 2017
Your personal art agent
You are interested in works by Marco Ricci?
We are happy to inform you, if works by Marco Ricci are to be auctioned in one of our upcoming auctions.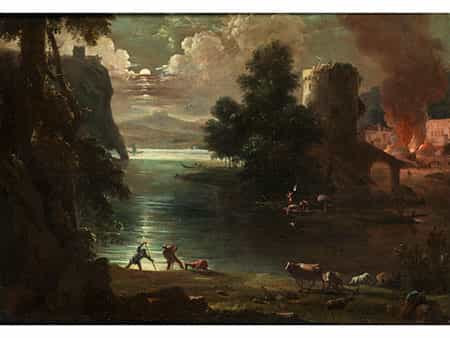 400
Marco Ricci,
1676 Belluno – 1729 Venedig
LANDSCHAFT MIT FIGUREN UND EINEM BRAND
IM HINTERGRUND Öl auf Leinwand.
63 x 88 cm.
Catalogue price € 20.000 - 25.000 Catalogue price€ 20.000 - 25.000 $ 22,000 - 27,500
£ 18,000 - 22,500
元 141,800 - 177,250
₽ 1,864,000 - 2,330,000
Dem Gemälde ist eine Expertise von Prof. Dario Succi beigegeben.

Dieses Gemälde stellt eines der seltenen Werke Marco Riccis im nächtlichen Licht dar. Die Szene wird nur durch den Vollmond erhellt, dessen Schein spielerische Lichtreflexe auf dem schmalen Wasserstrom erzeugt. Das vorliegende Leinwandgemälde stellt sich an die Seite von nur wenigen nächtlichen Landschaften, die von Ricci bekannt sind und heute im Howard Castle sowie in zwei europäischen Privatsammlungen aufbewahrt werden. Das Werk zeigt ein ausgereiftes kompositorisches Gleichgewicht und besonders viele narrative Elemente, die das reichhaltige Repertoire an typischen darstellenden Motiven des Autors offenlegen. Marco Ricci bietet hier eine brillante Probe seiner Fähigkeit, farblich harmonische Landschaften zu gestalten und Lichteffekte gekonnt wiederzugeben. Es ist kein Zufall, dass das vorliegende Gemälde von Giuliano Giampiccoli (1698-1759,Kupferstecher und Neffe Riccis) für den Druck ausgewählt wurde als eine der 36 Abbildungen des Bandes mit Landschaften von Ricci, veröffentlicht 1744. (1090732) (21)


Marco Ricci,
1676 Belluno - 1729 Venice

LANDSCAPE WITH FIGURES AND A FIRE IN THE BACKGROUND

Oil on canvas.
63 x 88 cm.

Accompanied by an expert's report by Professor Dario Succi.

The offered painting on canvas is one of only a few known nocturnal depictions by Ricci of which one is today held at Castle Howard Yorkshire, and a further two in European private collections. Here, Ricci brilliantly showcases landscape in harmonious colours and skilfully applied light effects. It is no coincidence that the present painting was chosen for reproduction as a print by Giuliano Giampiccoli (1698-1759) and published in 1744 as one of 36 images in a volume of Ricci's landscapes.
This object has been individually compared to the information in the Art Loss Register data bank and is not registered there as stolen or missing.
Your personal art agent
You would like to be informed of upcoming auctions if a work by Marco Ricci is offered? Activate your personal art agent here.