Your search for Max Liebermann in the auction
Modern & contemporary art

Thursday, 30 June 2016
Your personal art agent
You are interested in works by Max Liebermann?
We are happy to inform you, if works by Max Liebermann are to be auctioned in one of our upcoming auctions.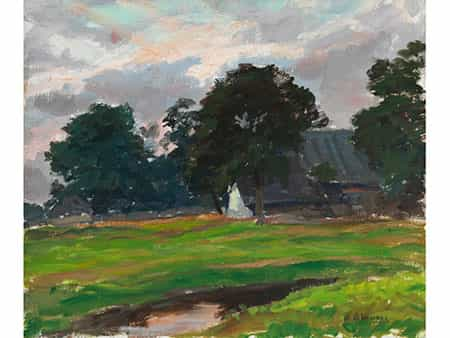 426
Max Liebermann,
1847 Berlin – 1935 Berlin
HOLLÄNDISCHES BAUERNHAUS Öl auf Karton.
33 x 39 cm.
Rechts unten signiert.
Catalogue price € 85.000 - 95.000 Catalogue price€ 85.000 - 95.000 $ 88,400 - 98,800
£ 76,500 - 85,500
元 594,150 - 664,050
₽ 4,615,500 - 5,158,500
Beigegeben ein Gutachten von Prof. Dr. Matthias Eberle, Max Liebermann-Archiv Gutachten vom 21.12.2008, Berlin mit Verweis auf Stilverwandschaft mit den Ölstudien der Anlagen I und II im Werkverzeichnis für 1896/ 18 und 1896/ 17. Das Gemälde wird ins Werkverzeichnis Nummer 1896/ 19a aufgenommen.

Blick über eine Wiese mit Tümpel im Vordergrund, in dem sich die Wolken spiegeln, hin zu einer Baumgruppe unter der das grau gedeckte Bauernhaus steht. Zwischen den Bäumen leuchtet eine helle Giebelwand auf, über den Baumkronen bewegter Wolkenhimmel.

Provenienz:
Privatbesitz Olmütz. (1061941) (11)


Max Liebermann,
1847 Berlin – 1935 ibid.

DUTCH FARM HOUSE

Oil on card.
33 x 39 cm.
Signed lower right.

Accomponied by expert report of Prof. Dr. Matthias Eberle, Max Liebermann archive, Berlin 21.12.2008, with reference to stylistic similarities with oil sketches of appendix I and II in the catalogue raisonné for 1896/18 and 1896/17. Painting will be included in the catalogue raisonné no 1896/19a.

Provenance:
Private collection, Olmütz.
This object has been individually compared to the information in the Art Loss Register data bank and is not registered there as stolen or missing.
Your personal art agent
You would like to be informed of upcoming auctions if a work by Max Liebermann is offered? Activate your personal art agent here.