Auction

Luxury auction: Jewellery
Your personal art agent
You would like to purchase a similar object?
We are happy to inform you, if similar works are to be auctioned in one of our upcoming auctions.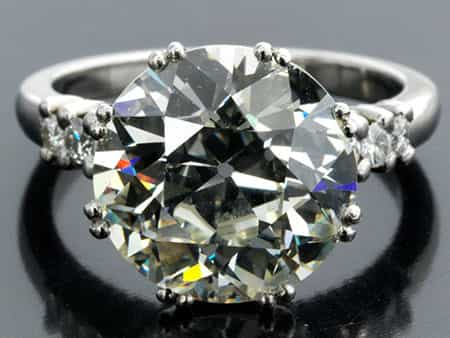 618
Solitärring
Ringweite: 53.
Gewicht: ca. 8,3 g.
Platin.
Catalogue price € 80.000 - 100.000 Catalogue price€ 80.000 - 100.000 $ 84,000 - 105,000
£ 72,000 - 90,000
元 586,400 - 733,000
₽ 5,284,000 - 6,605,000
Beigefügt ein Befundbericht von GIA Nr. 2175035677 vom Februar 2015.

Hochwertiger, klassischer Ring mit großem Altschliffdiamant, 6,67 ct K/VS1, flankiert von sechs kleinen Brillanten, zus. ca. 0,24 ct. Ein Steinchen ist beschädigt. (10213835) (16)


Solitaire ring
Ring size: 53.
Weight: ca. 8.3 g.
Platinum.

Accompanied by a report by GIA no. 2175035677 dated February 2015.

Premium, classic ring with large old-cut diamond, 6.67 ct K/VS1. Flanked by six small brilliant-cut diamonds, altogether ca. 0.24 ct. One little gem is damaged.
This object has been individually compared to the information in the Art Loss Register data bank and is not registered there as stolen or missing.
Your personal art agent
You would like to be informed of upcoming auctions if a similar work of art is offered? Activate your personal art agent here.