Auction

Silver, Russian Art & decorative objects
Your personal art agent
You would like to purchase a similar object?
We are happy to inform you, if similar works are to be auctioned in one of our upcoming auctions.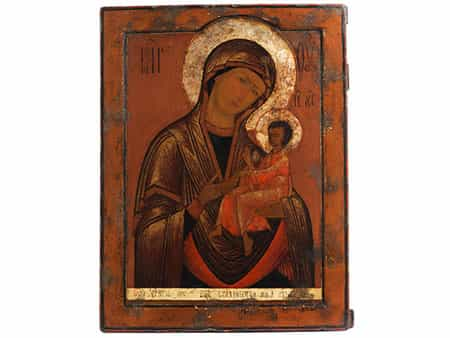 312
Große Ikone
63 x 48 cm.
Temperamalerei auf Kreidegrund auf Holz, teilweise vergoldet.
Russland, 18./ 19. Jahrhundert.
Catalogue price € 1.000 - 2.000 Catalogue price€ 1.000 - 2.000 $ 990 - 1,980
£ 900 - 1,800
元 7,020 - 14,040
₽ 60,700 - 121,400
Flächenfüllende Darstellung der Hodegetria. Die Gottesmutter hält das Jesuskind auf dem linken Arm und weist mit der rechten Hand auf es. Das Jesuskind hält die rechte Hand im Segensgestus, die linke Hand berührt die rechte Hand der Muttergottes. Leicht besch. (1000182) (14)


Large icon
63 x 48 cm.
Tempera on chalk primer on panel, partially gilt.
Russia, 18th/ 19th century.

Slightly damaged.
Your personal art agent
You would like to be informed of upcoming auctions if a similar work of art is offered? Activate your personal art agent here.