Your search for Bartholomeus van Assteyn in the auction
16th - 18th Century Paintings

Wednesday, 1 July 2015
Your personal art agent
You are interested in works by Bartholomeus van Assteyn?
We are happy to inform you, if works by Bartholomeus van Assteyn are to be auctioned in one of our upcoming auctions.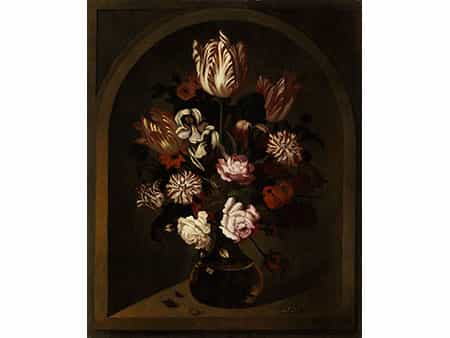 636
Bartholomeus van Assteyn,
1607 - 1668 Dordrecht
BLUMENSTILLLEBEN Öl auf Eichenholz.
55 x 44,5 cm.
Catalogue price € 8.000 - 10.000 Catalogue price€ 8.000 - 10.000 $ 8,320 - 10,400
£ 7,200 - 9,000
元 55,920 - 69,900
₽ 434,400 - 543,000
Das Blumenarrangement hoch gesteckt in einer nach oben sich verjüngenden, kugelförmigen Glasvase, die in eine gemauerte Nische eingestellt erscheint. Die Nische oben rundbogig geschlossen. Im Inneren links verschattet, nach rechts durch den Lichteinfall von links oben heller beleuchtet. Der Blumenstrauß weitgehend symmetrisch aufgebaut, mit senkrecht hochziehender, dominierender, rot-weiß geflammter Tulpe im oberen Zentrum. Darunter seitlich weitere geflammte Tulpen, Irisblüten, gefiederte Nelken sowie kleine, blassrosafarbene Rosenblüten und daneben herabhängend einige Knospen sowie ein Türkenbund. Das Stillleben bereichert durch eine sich wölbende Raupe. Rechts neben der Vase zudem ein paar abgefallene, dürre Blätter. (1012001)


Bartholomeus van Assteyn,
1607 - 1668 Dordrecht

FLOWER STILL LIFE

Oil on oak panel.
55 x 44.5 cm.
This object has been individually compared to the information in the Art Loss Register data bank and is not registered there as stolen or missing.
Your personal art agent
You would like to be informed of upcoming auctions if a work by Bartholomeus van Assteyn is offered? Activate your personal art agent here.