Your search for Frans Floris in the auction
16th - 18th Century Paintings

Wednesday, 1 July 2015
Your personal art agent
You are interested in works by Frans Floris?
We are happy to inform you, if works by Frans Floris are to be auctioned in one of our upcoming auctions.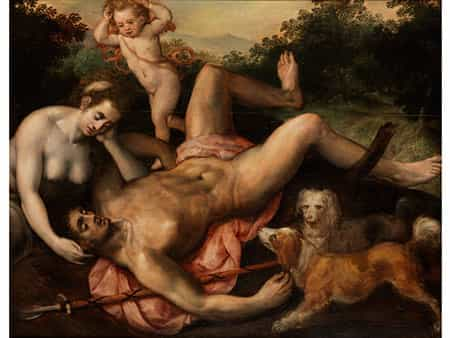 617
Frans Floris,
um 1516 Antwerpen - 1570
TOD DES ADONIS Öl auf Holz.
70 x 90 cm.
Catalogue price € 45.000 - 60.000 Catalogue price€ 45.000 - 60.000 $ 46,800 - 62,400
£ 40,500 - 54,000
元 314,550 - 419,400
₽ 2,443,500 - 3,258,000
Frans Floris war zuerst Schüler von Lambert Lombard in Lüttich, bevor er für einige Jahre (1541 - 1545) nach Rom ging, um seine Ausbildung dort fortzusetzen. In der ewigen Stadt studierte und kopierte Floris klassische Skulpturen sowie die Meisterwerke von Michelangelo und Raffael, aber auch von Giulio Romano, Polidoro da Caravaggio, Perin del Vaga, Francesco Salviati und Tizian, alles Künstler, die sein Schaffen nachhaltig prägten. Zwischen 1545 und 1547 kehrte er nach Antwerpen zurück und wurde schon bald zu dem Künstler, der antike allegorische und mythologische Darstellung nach italienischem Vorbild in Flandern beliebt machte und so zum Vorreiter des flämischen Manierismus, besonders des sogenannten "Römischen Stils", wurde.
Das hier vorliegende Werk zeigt in Anlehnung an Ovids Metamorphosen Venus, die ihren Geliebten Adonis auffindet; wie sie befürchtet hatte war er bei der Jagd von einem Eber getötet worden. Floris behält die gängige Ikonografie weitgehend bei und stellt Venus neben dem sterbenden Adonis kniend mit dessen Hundemeute und einem Putto dar. Typisch für Floris ist der im Vordergrund liegende nackte Körper des Jägers, der eine gewollt unnatürliche Haltung einnimmt; ebenso virtuos-kunstvoll wirken die verschlungenen Arme der beiden Protagonisten. Das vorliegende Gemälde von Frans Floris stammt sicherlich aus der Zeit zwischen 1550 und 1560 und lässt sich daher sehr gut mit folgenden seiner Werke vergleichen: die beiden Versionen des "Urteil des Paris" (Hermitage, St. Petersburg und Gemäldegalerie Kassel), "Zwei Amazonen fesseln zwei Krieger" (Fondazione Zeri, Mentana), besonders jedoch mit "Adam und Eva beweinen den toten Abel" (Koninklijk Museum voor Schone Kunsten, Antwerpen), die Haltung der beiden nackten Figuren im Vordergrund ist beinahe identisch mit der unseres Bildes.

Literatur:
Abgebildet in L. De Fuccia, C. Brouard, Di là dal fiume e tra gli alberi. Il paesaggio del Rinascimento a Venezia, Ravenna, 2012, S. 131. (1011295) (21)


Frans Floris,
ca. 1516 Antwerp - 1570

THE DEATH OF ADONIS

Oil on panel.
70 x 90 cm.

The present painting shows Venus finding her beloved Adonis. Just as she had feared, he has been killed by a boar. Floris largely maintains the established iconography and depicts Venus kneeling next to the dying Adonis with his pack of hounds and one putto. Characteristically for Floris, the naked body of the hunter is reclining in the foreground in a deliberately unnatural posture. Just as expertly artistic are the entwined arms of both protagonists. The present painting by Frans Floris certainly dates back to the period of 1550 and 1560 and can therefore be compared very well with the following works by the artist: both versions of the "The Judgement of Paris" (Hermitage, St Petersburg and Gemäldegalerie Kassel), "Two Amazons tying two warriors" (Fondazione Zeri, Mentana), however particularly with "Adam and Eve mourning the dead Abel" (Koninklijk Museum voor Schone Kunsten, Antwerp): the posture of both naked figures in the foreground is almost identical to that in our painting.

Literature:
Illustrated in L. De Fuccia, C. Brouard, Di là dal fiume e tra gli alberi. Il paesaggio del Rinascimento a Venezia, Ravenna, 2012, p. 131.
This object has been individually compared to the information in the Art Loss Register data bank and is not registered there as stolen or missing.
Your personal art agent
You would like to be informed of upcoming auctions if a work by Frans Floris is offered? Activate your personal art agent here.