Your personal art agent
You would like to purchase a similar object?
We are happy to inform you, if similar works are to be auctioned in one of our upcoming auctions.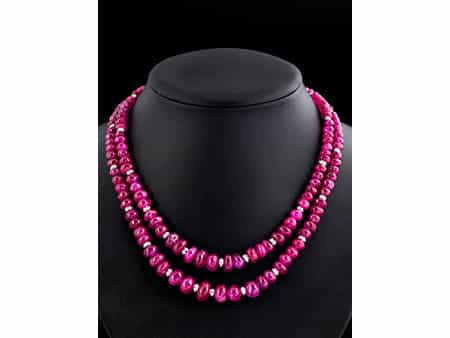 925
Rubin-Brillantcollier
Verstellbare Tragelänge: von ca. 41 cm bis ca. 43 cm.
Gesamtgewicht: ca. 98,8 g.
WG 750.
Catalogue price € 70.000 - 90.000 Catalogue price€ 70.000 - 90.000 $ 73,500 - 94,500
£ 63,000 - 81,000
元 513,100 - 659,700
₽ 4,623,500 - 5,944,500
Es liegt ein Test Report No. 63056 vom SSEF (Schweizerisches Gemmologisches Institut) vom April 2012 vor.

Hochwertiges, zweisträngiges Collier aus 149 natürlichen, polierten Rubinen in Linsenform, im Durchmesser von ca. 4,70 bis ca. 11,45 mm, mit brillantbesetzten Zwischenstücken und Verschlussteilen, zus. ca. 2,40 ct. Die violett-roten Rubine sind laut Gutachten aus Burma und nicht hitzebehandelt. Kleinere Risse in einem Teil davon sind minimal mit Öl behandelt. (1000201) (16)


Ruby and diamond necklace
Adjustable length necklace: from ca. 41 to ca. 43 cm.
Overall weight: ca. 98.8 g.
18ct white gold.

Accompanied by test report no. 63056 by the SSEF (Swiss Gemmological Institute) from April 2012.

Premium necklace in two rows from 149 natural, polished lentil-shaped rubies, with a diameter of ca. 4.70 to ca. 11.45 mm, with diamond-studded connecting links and clasps, altogether ca. 2.40 ct. According to the report the purple-red rubies originate from Burma and are not heated. Smaller cracks, in one part treated minimally with oil.
This object has been individually compared to the information in the Art Loss Register data bank and is not registered there as stolen or missing.
Your personal art agent
You would like to be informed of upcoming auctions if a similar work of art is offered? Activate your personal art agent here.